Vårt Land is a setting of a poem by Runeberg, written in 1846. The poem was later published in The Tales of Ensign Stål. Pacius set the poem to music in the spring of 1848 and, according to tradition, he wrote the music in four days. The first performance of the song took place on 13 May, during a celebration on Flora's Day in the Kumtähti Field in Helsinki.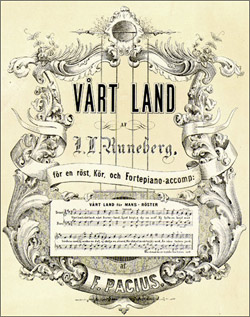 Cover of an early edition of Vårt Land.
Source: The National Library of Finland.
Zoom +

The songwriter, musician and poet Juhani "Juice" Leskinen (1950-2006) was one of the most famous Finns of his time. He made his breakthrough in 1973 with his debut album Juice Leskinen & Coitus Int and published records and books, among other things, until his death. Supple metaphors and imaginative rhymes delivered in his unique, squeaky voice became Leskinen's trademark. In his songs he spoke of love and closeness as well as the adverse side of society and the greatest mysteries of existence. His lyrics have become classics and are part of the finest Finnish cultural heritage.